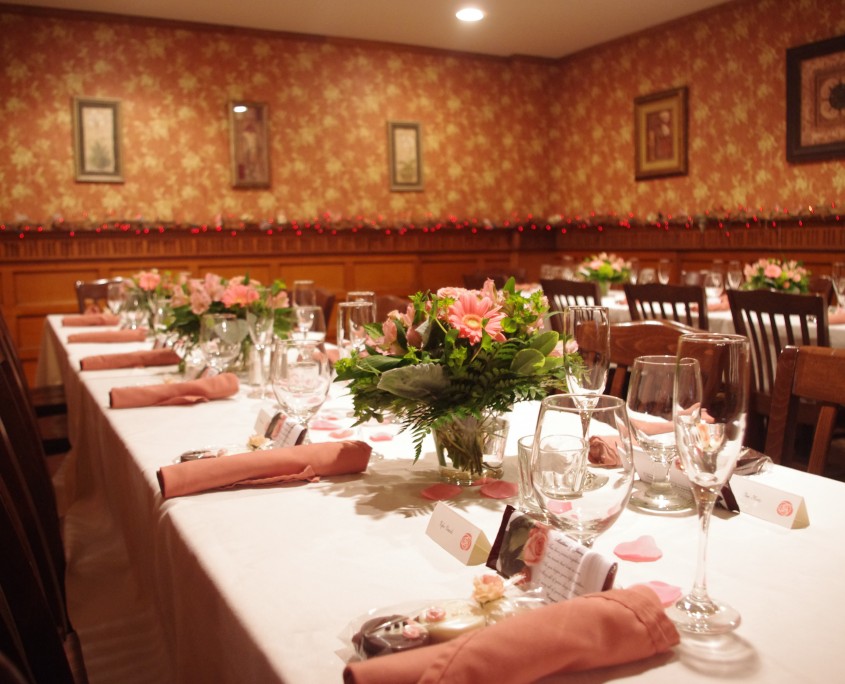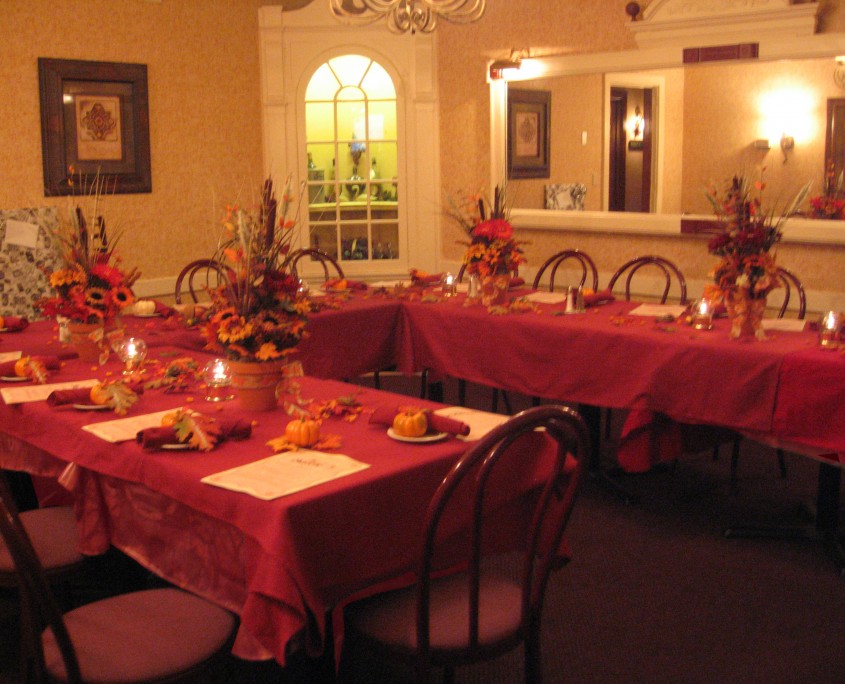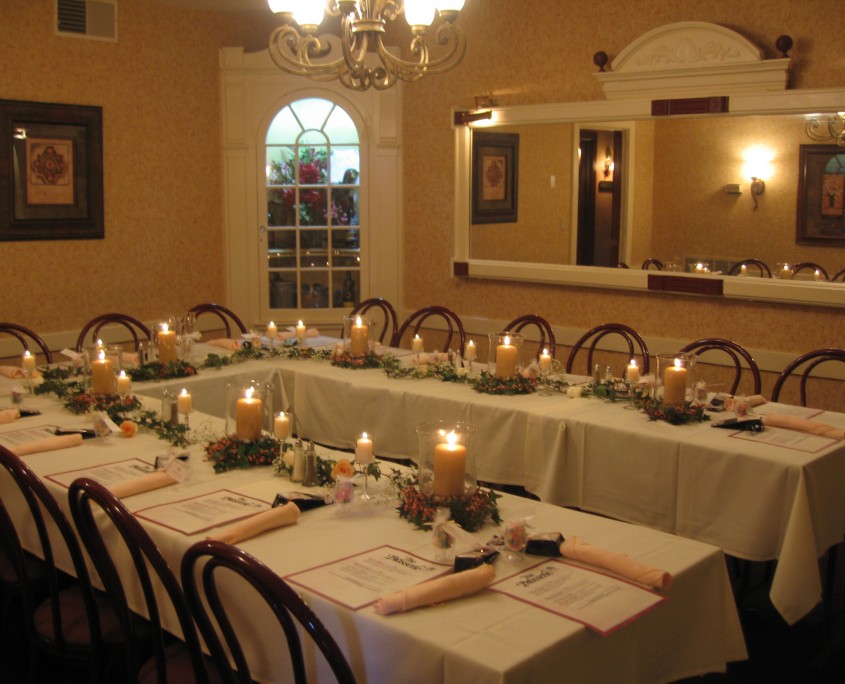 Dear Guest,
Thank You for your interest in The Brasserie! The following is a brief overview of our banquet procedures. Take a few moments to review your options and find one that best fits your needs.
When we use the term banquet or banquet procedures, this is a term in reference to parties greater than 15 people. In it we ask you to determine a set, limited menu from an extensive list of entree choices. From there, we will go ahead and design a custom menu card using the choices you've given us, and when the day of the event arrives each guest can choose from any entrees that we've pre-selected. For parties under 20 guest we can offer a selection of four entrees. For parties over 20, it's best to keep it to three.
Again, a limited menu is in the guest's best interest. It speeds the order process, reduces errors, expedites table service and allows the host to plan within a budget. A limited menu increases overall satisfaction which in the end, is both of our objectives.
Before the main course you may want to think about the arrival stage of your event. Non-alcoholic beverages are included at no additional charge but you also may want to include the option of beer, wine and spirits. We have a full bar with plenty of draft and bottled beers, an extensive wine list including champagne and champagne toasts. In the past we've had guests offer open bar, limited bar, cash bar or no bar. It's something that you can tailor to your budget and we can work with you to see what options might be best.
Also to get your event started, we could provide any number of appetizer trays or individual appetizers as your guests are arriving. This could range from vegetable/cheese trays, fruit arrangements or just picking a handful of appetizers to share from our regular menu. The vey bottom of this page includes some of our Chef's past offerings, but if you have some ideas for something not listed, Chef Simo is able to fulfill any special requests.
Below, we list the complete menu of entree choices with pricing inclusive of beverage, salad and dessert.
---
(also as seasons change so does our menu, we will update you if a menu item becomes unavailable in the long term)
create your inclusive menu. choose any 3 dinners
*All dinners include dinner salad, rolls & butter; non-alcoholic beverages and dessert.
---
Beef Selections
Grilled Steak Oscar; Open-flame grilled steak medallions, lump crab meat, creamy lobster sauce.$28
Jack Daniels Strip Steak w/ Crab Stuffed Shrimp;  12 oz New York Strip, sweet Jack Daniels sauce.$32
Char Grilled Delmonico Steak; Char grilled 16 ounce ribeye,  demi glaze sauce.$32
Royal  Tenderloin Beef Kabobs; Marinated beef skewered with vegetables, cucumber yogurt sauce. $29
Surf and Turf; 6oz Petite Filet Mignon, jumbo sea scallops, colossal shrimp, blackberry sauce. $37
Petite Filet Mignon with Port wine sauce. $28
Grilled Tenderloin Steak with Bordelaise Sauce. $24
Marinated Grilled Shoulder Steak (bistro filet) with Mushrooms and Peppercorn Sauce. $25
Slow roasted Prime Rib with au Jus, 10/12/16 oz cuts available $27/$31/$35
---
Chicken Selections
Grilled Chicken Breast Topped with Crab Meat; Melted Provolone, southwest  cheese sauce. $26
Royal Chicken Kabobs; Marinated chicken skewered with vegetables, cucumber yogurt sauce. $26
Chicken Marsala with Sautéed Mushrooms;  Marsala wine demi glaze sauce. $24
Chicken Cordon Bleu; Stuffed chicken breast with ham, Swiss and mustard sauce. $25
Chicken Picatta; Lemon, capers, roasted red pepper, wine butter sauce. $23
Chicken Tandoori; Marinated chicken breast, cucumber yogurt sauce. $23
Coconut Curry Chicken; Grilled chicken breast with curry sauce. $23
Mediterranean Chicken; Cinnamon stick, cashews, dry apricot, butter wine sauce. $26
Chicken Parmesan; Sautéed chicken breast with bread crumbs, Parmesan cheese, marinara sauce. $23
---
Seafood Selections
Chilean Sea Bass; Oven roasted, Jicama cucumber sauce, Maltaise sauce. $32
Southern-Style Flounder; Mango salsa, aged Balsamic reduction. $26
Wild Grilled Sockeye Salmon with Crabmeat and Lime Sundried Tomato Vinaigrette. $28
Blue Crab Cakes with Tamarind Sriracha sauce. Single or Double. $21/$29
Pan Roasted Atlantic Salmon with Lemon Caper Sauce. $25
Grilled Atlantic Salmon with Cashew Honey Orange Sauce. $27
Broiled Cajun Salmon with Honey Pineapple Salsa. $25
Parmesan Crusted Tilapia with Mustard Sauce $23
Pan Sautéed Tilapia with Smoked Chipotle Sauce. $23
---
Pasta Selections
Pasta Rustica; Mild Italian sausage, grilled chicken breast, sautéed mixed peppers, onions, Penne pasta, marinara sauce, Parmesan cheese. $24
Tri Color Cheese Tortellini with Chicken and Cream Sauce. $26
Pasta Primavera; Mixed local vegetables in red sauce. $22
Penne Pasta with Pesto, Grilled Chicken and Sundried Tomato. $25
Linguini al Vongole; Linguini, clams, garlic, butter white wine sauce. $26
Bucatini Pasta; Roasted tomato sauce, sautéed shrimp. $28
---
All dinners come with vegetable medley and choice of Yukon Gold mashed potatoes, rice pilaf or roasted red potatoes.
---
Desserts (choose two)
New York style cheesecake
Triple chocolate cake
Chocolate Peanut Butter Cake
Seasonal Cake/Pie
---
*Add a cup of soup to this package for $3 more/ person
Tomato Bisque, French Onion, or Soup Du Jour (known 2 days in advance)
(Note: If you think not everyone wants soup we can offer it ala carte at  menu price)
Displays:
Domestic Cheese and Grape Arrangement
Red seedless grapes, assorted crackers, honey mustard, swiss, cheddar, goat, smoked gouda & pepper jack cheeses. Small (20-30 people) $95 Large (40-50 people) $175.00
Crudités
Assortment of in-season grilled and fresh vegetables served with homemade gorgonzola dressing/ honey mustard/ ranch. Small (20-30 people) $80 Large (40-50 people) $175.00
Homemade fresh seasoned potato chips- (10-20 people). $25
Hot Crab and Asiago Dip with Olive Oil Toast Points
Small (15-20 people) $75 Large (20-30 people) $160
Anti-Pasto Arrangement
Assortment of olives, marinated grape tomatoes, marinated artichokes, assortment of smoked meats, caper berries and homemade tapenade. Served with assorted mini-rolls. Small (15-20 people) $125 Large (20-40 people) $250