Soups, Salads

&

Appetizers
Baked Tomato Bisque

$4.95/ $5.75

Featured in Bon Appetite; Tomatoes, mushrooms, onions, melted provolone.


Baby Arugula, Roasted Beets, Chevre Fromage, Candied Walnut, Chopped Basil, and Green Tea Vinaigrette.


A  summer-marinated mixed 5 bean salad with red onion. mixed pepper, mesuline greens, radish and cilantro topped with tortilla strips and southwest dressing.


Fresh Fruit Salad with Grilled Chicken

$13.00

Marinated chicken breast, mixed greens, tomato, cucumber, strawberry, blueberry, pineapple & goat cheese tossed with sunflower seeds.Served with blood orange vinaigrette.


Locally grown tomatoes, cucumber, mixed pepper, red onion, Kalamata olives, Feta cheese, oregano, sea salt, tossed in our house Greek dressing. Add:  Chicken (6 oz.) $5.00   Steak (8 oz.) $8.00    Shrimp (8 oz.)$8.00     Salmon (8oz.)$8.50


Chopped Caesar Salad

$9.00

Crisp baby romaine tossed in homemade Caesar dressing, shaved imported Riggiano-Parmesiano, topped with French baguette crouton. Add:  Chicken (6 oz.) $5.00   Steak (8 oz.) $8.00    Shrimp (8 oz.)$8.00     Salmon (8oz.)$8.50


Spicy Cashew Chicken Salad

$13.50

Cucumber, roasted red pepper, spicy cashews, tangerine, dried cranberry, grilled chicken breast, honey mustard vinaigrette.


Mixed greens ,cucumber, carrot & tomato.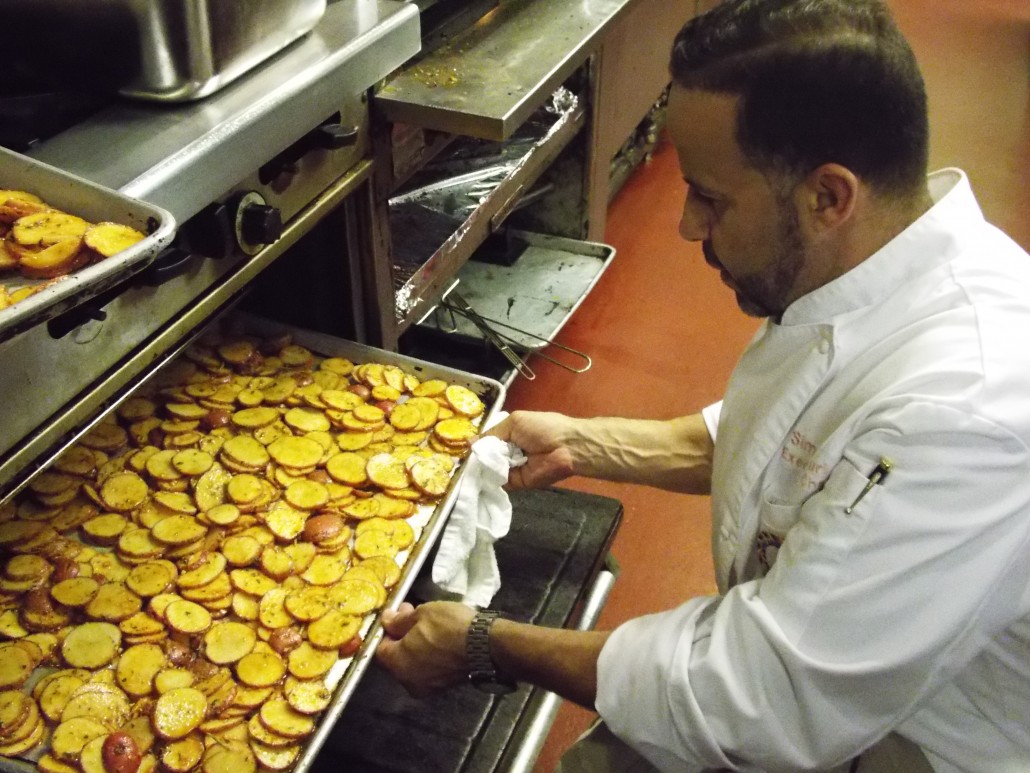 Mild, medium, hot, BURNINATOR, bbq, hot honey bbq, garlic parmesan, teriyaki, honey mustard, hot honey mustard. (10)/ $9.75 (5)/ $5.00 bleu cheese & celery $1.25


Marinated white mushrooms topped with fresh mozzarella cheese, cherry tomato and aged balsamic vinegar reduction.


Warm Lobster Crab Dip

$9.50

A creamy blend of Maine lobster, blue crab meat, artichoke and cream cheese.

Served with mini pita bread.


Peel and Eat Shrimp

$12.50

Tiger shrimp steamed in Old Bay and Stoudt's Lager with cocktail sauce.


Deep Fried Calamari, Lime Dressing, Pomme Fritt, and Remoulade Sauce. $10


French Bread Tomato Bruschetta

$9

Homemade olive tapenade, olive oil, parmesan


Seasoned ground beef, melted cheddar & mozzarella, tomato, olives, banana peppers, guacamole, salsa & sour cream. (Sub Grilled chicken same price)


Parmesan cheese mayo & smoked jalapeno spicy mustard.


Philly Cheese Steak Egg Roll

$9.00

Deep fried Philly cheese steak egg roll served with marinara sauce.


Southwest Chicken Egg Rolls

$9.00

Spicy seasoned egg rolls stuffed with black beans, corn, roasted chicken, Monterey Jack cheese and served with a tangy smoked chipolte sauce.


– Fresh domestic mussels steamed in fennel, caramelized shallots and garlic in saffron tomato white wine broth. Served with a sourdough baguette.


Middleneck clams in white wine garlic butter.


Cheese Fries Supreme

$8.25

bacon, scallions, melted cheddar cheese, side ranch.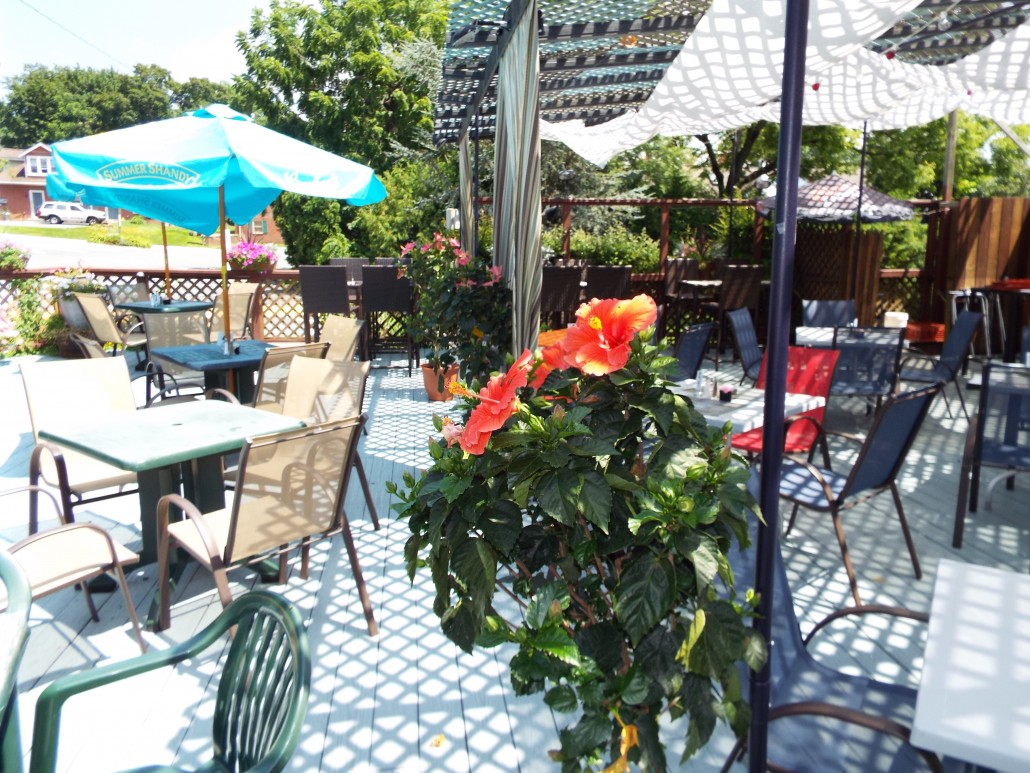 Classical Boullabaisse

$27

Assorted shellfish, medallions of local fish simmered in rich seafood broth,infused with saffron and finished with first-pressed extra virgin olive oil. Served with sourdough baguette.


Blue Crab Cakes

S $18/ D $26

Seared Maryland style Blue Crab Cake with rice pilaf, vegetable du jour and Tamarind Sirasha sauce.


8 oz. filet done rare or prepared to your liking with Parmesan scallop potatoes, vegetable du jour and soy-honey wasabi sauce.


Marinated 8oz. Atlantic salmon with lemon, capers and dill beurre blanc sauce. Served with rice pilaf and vegetable du jour.


Jumbo tiger shrimp, sea scallops, little neck clams, fresh garlic butter wine sauce, Picoriono cheese over linguini pasta.


Sautéed organic chicken breast, jumbo sea scallops and mild Italian sausage with baby spinach and broccoli in a creamy Parmesan cheese sauce tossed with linguini pasta.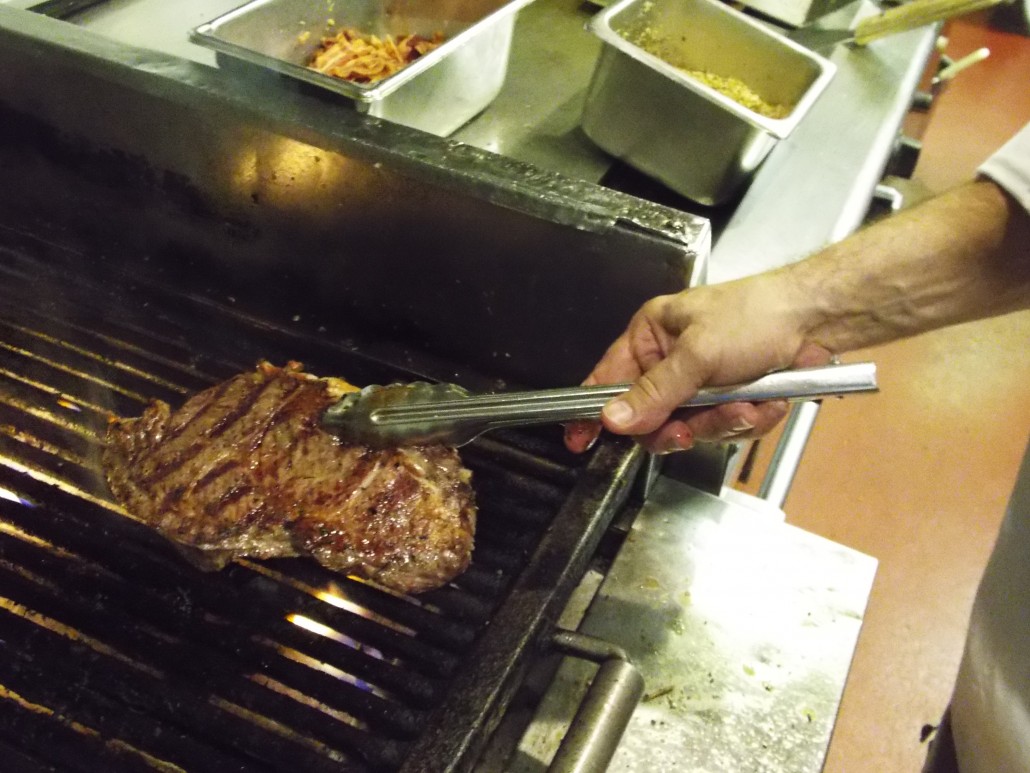 Mild Italian sausage, grilled chicken breast, sauteed mixed peppers, onions, herbs tossed with Penne pasta in our homemade marinara sauce topped with Parmesan cheese.


Beef or Chicken Kabobs

Chicken $22 Beef $24

Moroccan spice-marinated kabobs with slow grilled fresh vegetables. Served with rice pilaf, fresh cucumber mint yogurt sauce. Mild spice.


Full rack of baby back ribs smothered in house recipe Moonshine BBQ sauce. Served with 5 cheese Mac n Cheese and coleslaw.


Open-flame grilled steak medallions, lump crab meat, creamy lobster sauce, oven roasted new potatoes, summer vegetable.


– A center-cut 6oz. Filet Mignon topped with Maine lobster and Hollandaise sauce. Served with Yukon Gold mashed potatoes and vegetable du jour.


14 oz. Center Cut New York Strip

$27

Cast iron seared New York Strip served with fresh grilled pineapple and peppercorn melange sauce. Served with roasted potatoes and vegetable du jour.